Only every time I close my eyes. When I blink. When I stare into space. When I can't sleep. In my dreams. Out the corner of my eye. Always.
"Nah, not really. We just drifted, you know?"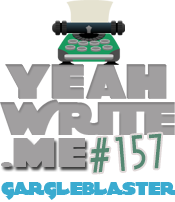 I've found a new lightning fast place to find prompts:
Yeah Write
This is an entry for their Gargleblaster Challenge - it has to be 42 words on the dot, and open to the first 42 people. This week (#157), the prompt is Do you see her much?